Parker vane pumps T6C-010-2R00-B1
Brand:

Parker/派克

Product Code:

T6C-010-2R00-B1

Availability:

100
CHARACTERISTICS
These vane pumps have been specially designed for high/low circuit. The combination of different cartridges in double and triple pumps allows low flow at high pressure
(300 bar max.) and high flow at lower pressure. This is a clever way to optimize your
circuit design
This pump feature will also allow a very fast pressure cycle change with a very pre-
cise flow repeatability.
GREATER FLOW
B:5.8 to 50.0 ml/rev.
C: 10,8 to 100,0 ml/rev.
D:44,0 to 158,0 ml/rev.
E : 132.3 to 268.7 ml/rev.
HIGHER PRESSURE
B: 320 bar max. (300 bar for multiple pump)
C : 275 bar max
D: 280 bar max. (250 bar for multiple pump)
E: 240 bar max
WIDE SPEED RANGE
Industrial pumps :from 600 to 3600 RPM
BETTER EFFICIENCY
Over 94 % under high pressure, which increases productivity and reduces heating and operation costs.
LOW NOISE LEVELS
Increase operator safety and acceptance.
MOUNTING FLEXIBILITY
Single pumps 4 positions.
Double pumps 32 positions
Triple pumps 128 positions.
CARTRIDGE DESIGN
Provides for drop-in assemblies. They permit easy conversion and service.
B and D cartridges:bi-directional
C and E cartridges Uni-directional
WIDE RANGE OF ACCEPTABLE VISCOSITIES
Viscosities from 860 to 10 cSt permit colder starts and hotter running. The balanced design compensates for wear and temperature changes. At high viscosity or cold tem. perature, the rotor to side plates gap is well lubricated and improves mechanical effciency.
FIRE RESISTANT FLUIDS AND BIODEGRADABLE FLUIDS
Including phosphate esters, organic esters, chlorinated hydrocarbons, water glycols, rapeseed may be pumped at higher pressures and with longer service life by these pumps.
GENERAL APPLICATIONS INSTRUCTIONS
1. Check speed range, pressure, temperature, fluid quality, viscosity and pump rotation
2. Check inlet conditions of the pump, if it can accept application requirement
3. Type of shaft: if would support operating torque
4. Coupling must be chosen to minimize pump shaft load (weight, misalignment)
5.Filtration: must be adequate for lowest contamination level
6. Environment of pump:to avoid noise reflection, pollution and shocks.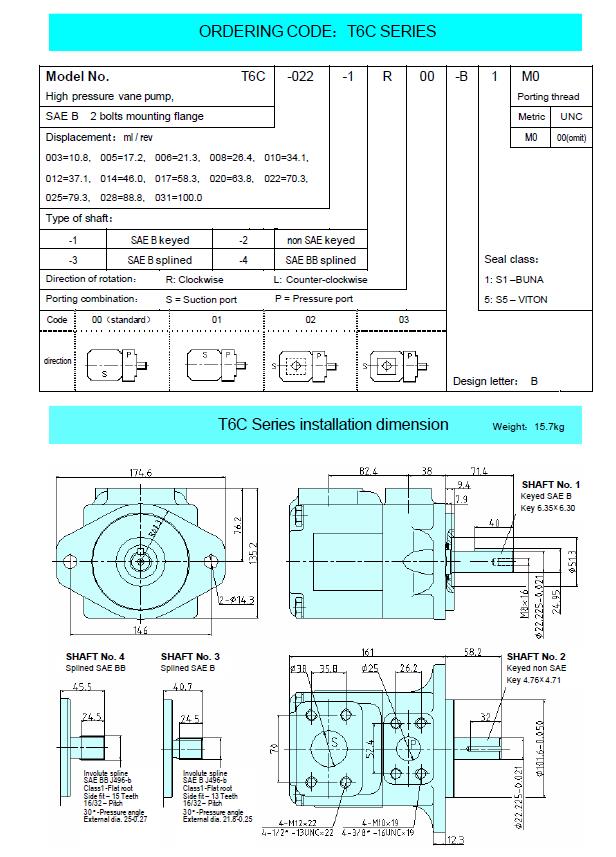 Tags: Parker, Parker, PV series, axial piston variable pump, PV016R1K1T1NMMC, PV series, hydraulic pump, oil pump, pump offer, parameters, wholesale, purchase, factory direct sales