MR700F-N1N1N1S1NX0701 Chain Conveyor
Brand:

Parker/派克

Product Code:

MR700F-N1N1N1S1NX0701

Availability:

100
Parker Calzoni MR hydraulic motors are of the radial piston type. Unique Fluid Column Technology is utilized to achieve superior performances compared to competitive designs. The motors are engineered for high mechanical and volumetric efficiency over a wide range of speed and torque.
Due to their special design, the MR motors deliver their maximum performance when the application requires high torque values. The MR motors combine precise and smooth movements, both at low speed and during acceleration and deceleration transitions.
In addition, the high starting torque (up to 96%) allows the user to select a smaller displacement of the motor, optimizing the size of all the other system' s components.
Other typical characteristics of MR motors are:
• high power to weight ratio
• high volumetric and mechanical efficiency
• high resistance to thermal shock
• very low operating noise levels
• suitable for fire-resistant and biologically degradable fluids
• extremely well suited for control engineering applications
• reversible operation (motor and pump)
MR motors are grouped into 11 different frame sizes, corresponding to 41 standard displacements available.
Motors can be customized by selecting different types of shafts, speed sensors, seals, and connection flanges. Optional accessories include gearboxes and parking brakes.
Furthermore, MR motors can be equipped with optional built on manifold blocks (cross relief, anti-cavitation, flushing and drain valves) to suit the customer needs.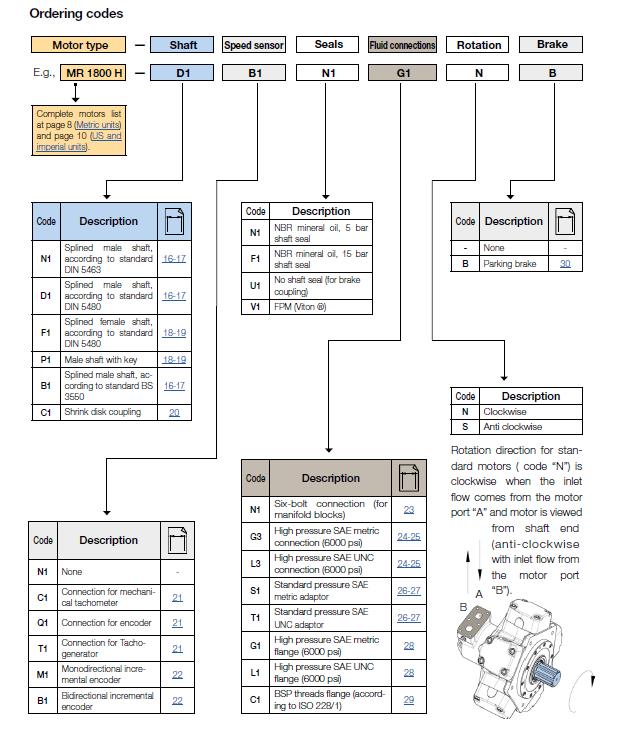 Related Products
Tags: Radial Piston Motors MR, Proportional Directional, Pressure Control Valves, Electronics, Servovalves, D1FB, D1FH, D3FH, Chain Conveyor