PARKER LAC2-016-4-A-00-000-0-0
Brand:

Parker/派克

Product Code:

LAC2-016-4-A-00-000-0-0

Availability:

1
Full Product Description
The Parker LAC air oil cooler series offers a reliable and efficient cooling system with the additional benefits of short lead times and 48 delivery for some part numbers. With its simple and robust design and wide selection of accessories this range will suit allindustrial applications with a high voltage electric source.
The Parker LAC air oil cooler is quiet in operation and offers a low pressure drop and high cooling capacity. It has a single-phase or three- phase AC-motor and is also available in two special versions:
·With ATEX approval for use in potentially explosive atmospheres above ground (LAC-X series)
· With extra corrosion protection, for use in marine/offshore applications (MAC series)
The LAC size 200, which is unique on the market offers a cooling capacity of 300 kW at an estimated temperature difference of 40°C.
Markets:
· Oil and Gas
·Industrial
·Mobile
· Renewable Energy
Features/Benefits:
·Quiet fan and fan motor.
·Efficient and robust design which extends operating lifetime and reduces service and maintenance costs
·Cooler matrix with low pressure drop and high cooling capacity.
· Easy to maintain and easy to retrofit in many applications.
The correct working temperature produces a number of economic and environmental benefits;
·The hydraulic system's useful life is extended.
·The oil's useful life is extended.
·The hydraulic system's availability increases – more operating time and fewer shutdowns.
· Service and repair costs are reduced
· High efficiency level maintained in continuous operation – the system's efficiency falls if the temperature exceeds the ideal working temperature.
Applications:
· Power Units
· Lubrication Systems
·Marine Cranes
·Presses
· Wind Power
We have included a small selection of part numbers, for more options please download the LAC air oil cooler brochure or contact your local
Parker sales office. Cooler product selector software to view 3D Models, product literature and sizing software is also available. You can also
download our Cooler Sizing Software to select a cooler (in the Product Support tab).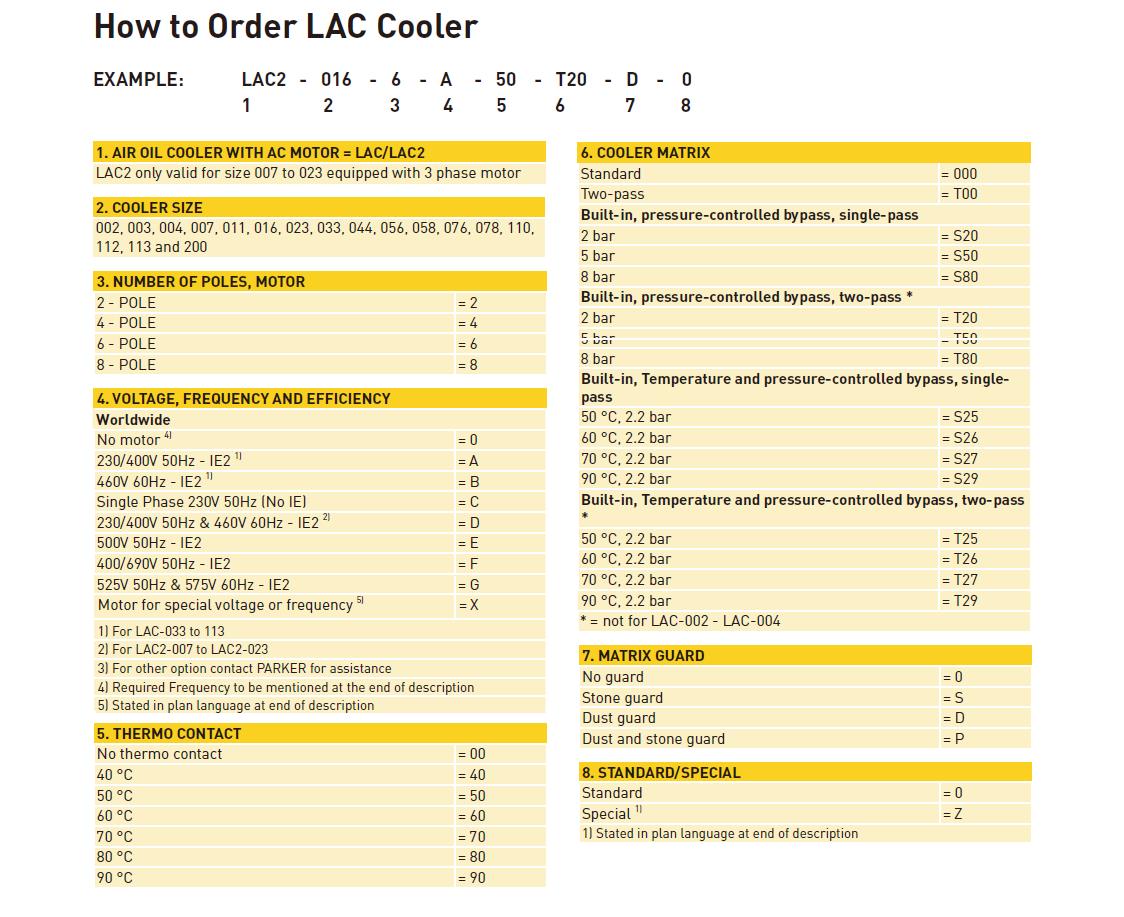 Related Products